While working in adult social care, what jobs can you do?
There has never been a better time to consider a career in adult social care and join our team of social care professionals.
Helping people live independently and with dignity is an important and fulfilling profession. Opportunities in the care sector are as diverse as the people you'll be helping and the opportunities to build your skills, knowledge and experience are endless.
Our care professionals are the best people to tell you about how rewarding a career in care can be. Take a look at their stories below: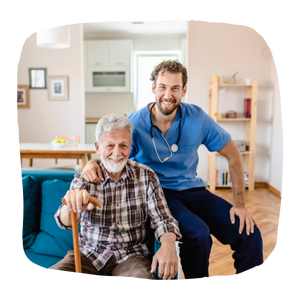 All of these people have come from different backgrounds and walks of life, showing that there really is a place in care for everyone. There is a career waiting for you. Are you ready to make a difference?
Hear examples from our adult social care workers:
Sharon Moss - registered care manager
Sharon's close bond with her grandfather - Middlesbrough and England football legend George Hardwick - was the starting point for a career which has seen her rise within the council workforce to become a care home manager. She considers it a "privilege" to work with some of the county's elderly residents. The roots of her career can be traced back to early childhood, when she was in awe of her grandfather's giant-like sporting physique, which he retained despite retiring from sport to run a car dealership.
Holly - registered care manager
Holly began her career in care straight after school at 18. Ten years later, she is now a registered care manager of a care facility. Holly's career journey really highlights the opportunities to progress within the care sector, whilst still having time to have that all important work-life balance. Listen to why Holly enjoys what she does in the video below:
Jim McDermott - relief worker
The COVID-19 pandemic had a huge impact on the career and work-life of Jim McDermott, who went from famously playing drums with the Red Hot Chili Peppers and Kylie Minogue, to now helping those most in need at Ashfield Care Home in Skipton.
Bobby - learning disability worker
A builder by trade, Bobby had never really thought about a career in care. It wasn't until his wife encouraged him to help out at a local charity as a chaperone that he realised how much he enjoyed helping and supporting others. Now a learning disability worker, Bobby's building days are behind him and he couldn't be happier with his new career path. Listen to Bobby's full story below:
Reda - reablement worker
After initially training to be an accountant, Reda undertook some volunteering in a hospital in London and really enjoyed his time caring for the patients. After relocating to Harrogate, Reda decided to give a career in care a go and hasn't looked back since. Watch his full story below:
Angie - quality improvement manager
Angie has always been passionate about care and ambitious to progress in her career. Juggling a busy family life with two children Angie still manages to find the time to do a great job. Motivated by making a real difference Angie has worked her way up the career ladder, completing various training and professional development. Here's what she has to say about her career in care:
Join our team and apply for our jobs adult social care
We have a wide variety of care roles available across North Yorkshire. Find the perfect job for you and make a real difference to the people living in your communities. We'd love to hear from you!