What is it like to work in care?
As well as a variety of different service areas adult social care also has a number of career opportunities and pathways. Each role involves specific skills and knowledge but all have one vital factor in common; you get to make a difference every day. These positions do not always require previous experience or qualifications. Relevant training and support will often be provided by your employer to support your development and start your career journey in care. Take a look at some of the careers available below: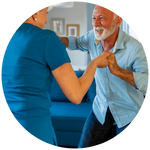 Care and support worker
As a care and support worker, no two days are the same. Your role will be to deliver care and support plans whilst continuing to encourage people to remain independent and in control of their own wellbeing. Working as part of a team, you will work under clear instructions and guidance from senior colleagues. The positive impact you can make to the lives of others is invaluable. It will make a difference to your day because you're making a difference to theirs.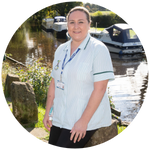 Rehabilitation / Reablement worker
Rehabilitation plays a major part in reshaping the future of care and support - helping people to live longer, healthier and more independent lives. It differs from the traditional residential care associated with care work. Supporting people to do things for themselves again, by maintaining and improving independence enabling more fulfilled lives in their own homes. This is an extremely rewarding role where you can realise the impact of the great work you do on a daily basis.
Is adult social care for you?
We truly believe that if you have the right core values and attitude, a career in care is for you. We have supported various different people to find their ideal career in care by helping them understand what will be involved in the different roles and whether or not it would suit their interests.
We are always happy to help people understand what working in care entails and help people come to a decision if it is the right career path for them; you can contact us to arrange a conversation with one of our Make Care Matter team. Alternatively, you can see the wide variety of jobs (with full, part-time and relief hours) we currently have available by clicking the button below:
Working in social care is about providing support to help people live their lives as independently as possible. You don't necessarily need qualifications or experience to work in social care because the most important thing is your values and attitude. You may also want to take a look at the Skills for Care 'could you care' quiz. You can take this quiz by clicking the button below!